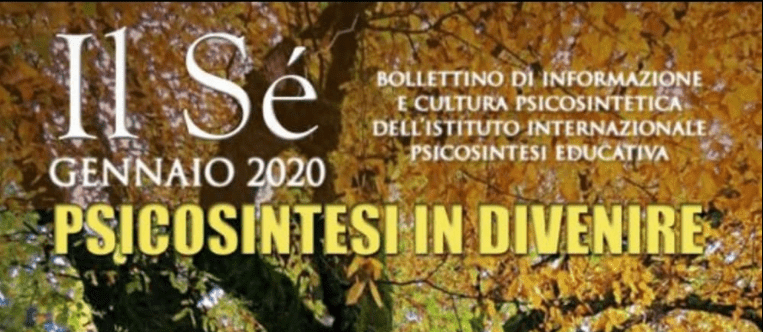 An interview about how Kenneth Sørensen developed his understanding of psychosynthesis typology and the seven types and applied it in his counselling and business.
Amanda Mattiussi interviews Kenneth Sørensen, author of The Seven Types, first published in "Il Sé" magazine, January 2020
How did you first become involved with psychosynthesis?
It started in the '90s. I was very involved with theosophy as a teacher and an author – I wrote a couple of books and I taught esoteric philosophy. I think it was in 1997 when I read The Act of Will by Roberto Assagioli and I was so fascinated by his detailed presentation of the different aspects, stages and qualities of the will. This was my first encounter with psychosynthesis, but it took a couple more years before I decided to go deeper into it.
Around 2001, I got very frustrated with the theosophical environment and myself: we were so much up in our heads and we couldn't practise what we taught. I had a big crisis and I had to work with myself in psychotherapy. Up to that point, I was very devoted to theosophy – I identified with it, you might say – I was a kind of a missionary for esoterism and way too fanatical about my ideas. I experienced a breakdown of my devotional persona because I realised there was too wide a gap between my ideals and my practical life. I disengaged from the theosophical group, even though I still valued many of the ideas. Today, I no longer identify with any particular philosophy because such an identification ends up being a prison, and we often become ideological possessed by our ideas.
In 2002, I started training in psychosynthesis. I found a good school in Sweeden – I was living in Copenhagen, so it was a short trip. Then I transferred to the Norwegian Institute of Psychosynthesis in 2003 and finished my four-year training as a psychotherapist there. Finally, I went to London, where I wrote my Masters thesis in Integral Psychosynthesis.[1] So it was a long journey, with psychotherapy and clients, and my career changed entirely. I stopped working as a social consultant in social psychiatry – which I had been doing for ten years, working with people with mental illness – and I started to build my own business.
Transferring to psychosynthesis made it possible to work at a more intimate and personal level, helping people to transform their personality, and psychosynthesis gave me the psychological and philosophical concepts on which I based my teaching and counselling practice. I designed several personal growth modalities based on psychosynthesis, e.g. a one-year training programme in meditation, a programme looking at the Seven Types, and a programme looking at Soul Flow.
Psychosynthesis became my primary perspective and methodology, and I used it to make a deep transformation of my personality. I have not found any better psychology. I just felt a deep resonance with psychosynthesis, it was like coming home.
Which aspects of psychosynthesis do you consider the most powerful for the historical moment we are living in?
I think the most powerful idea and fact in psychosynthesis is the concept of the Self as pure consciousness and will. When I compare psychosynthesis with other psychologies, I find that psychosynthesis has been able to combine Eastern wisdom with Western psychology. I have meditated daily since 1988, so I know as a fact that the Self is pure consciousness, it is an experience that anyone can confirm through introspection.
Psychosynthesis offers a unique contribution to Western psychotherapy by pointing to the fact that the central point of identity in any human being is pure contentless awareness and will. We can discover this centre of pure awareness when we identify with the observer and become the loving witness to our psychological content. This realisation is not new in the East, but in the Western tradition it is rare to see this point being stressed in the practical application of counselling. There is both a personal and spiritual dimension of the Self as a loving observer, but I will not go into this here.
Then there is the will – not many people out there are speaking about the will. The will is essential to discover if people are going to become empowered and self-reliant. The prominent task of psychotherapy must be to help people to master their own lives, and to do so they need to access the will: the will to be who they choose to be based on authentic values and essential qualities. Psychosynthesis can help with this process because it has a deep understanding of the dynamic and evolutionary process within human beings.
An important part of psychosynthesis – as suggested by the name – is synthesis, which includes working with the subpersonalities to bring them together into a harmonious whole. Our personality is not an integrated whole – we have so many conflicting energies within – and psychosynthesis offers insight and techniques to recognise, transform and synthesise all the different parts into a well-functioning whole.
All of these concepts are discussed in my book The Soul of Psychosynthesis, where I show how we can work with the seven core concepts of psychosynthesis in counselling and as part of our own personal and spiritual development.
Let's talk about The Seven Types, your latest publication, which looks at Assagioli's theory of the seven human types. Why did you take up this challenge?
I was very familiar with the esoteric philosophy of the Seven Rays, which is a theory about how there are seven universal energies that make up all other energies and everything that exists, including the seven human types. I knew from experience that the theory of the Seven Types was important for helping to understand the diversity in ourselves and in the people around us. And in my counselling practice, I discovered the Seven Types provided an important basis for understanding and empathising with different types of clients.
But what I found very important in Assagioli's thinking about the human types was that each energy and type is related to a psychological function. This idea was really new to me, and it became a major inspiration behind my work with the types. Let me quote Assagioli on this:
"The essential unity of all souls does not exclude differences existing in their personal appearances. Therefore, we must make a serious study of these different qualities. This study should become more and more a part of the new psychology. We should endeavour to understand the true nature, the underlying function and purpose, the specific problems, virtues and vices of each type, as it manifests in and through a human individual."[2]
I had never connected the seven psychological functions of psychosynthesis with the Seven Types, but it made perfect sense when comparing this idea with CG Jung's four psychological types. This insight gave me a valid and simple psychological theory with which to understand and explain the nature and operation of the Seven Rays and energies. So, based on Assagioli's book Psychosynthesis Typology and work done with my friend and colleague Søren Hauge, we have done with the rays what the Western scientific mindfulness movement has done with Buddhist mindfulness teaching: we have focused on the rays' psychological dimensions and their practical application in life, while leaving out the cosmological conceptions.
From our many years of offering therapy to clients and professional training to students, we have discovered how valuable and easy it is to work with the seven energies at a human level. No cosmology, no planets, no stars, but a deep and thorough understanding of the Seven Types based on the seven psychological functions. Assagioli didn't explain everything, he just offered some ideas, and we have built on those ideas. We have done a lot of work to expand on Assagioli's ideas and make it into a more complete theory.
In that regard, I've noticed that the theory of the Seven Types uses terminology that doesn't exactly correspond with Assagioli. What did you add or change and why?
The initial task was to map the seven psychological functions (see Diagram 1) onto the seven types. So we compared Assagioli's seven psychological functions with his seven types – and found that Assagioli doesn't talk about an intuitive type. This was a problem because we have an intuitive function, but Assagioli did not list an intuitive type – rather, he talked about:
The Will-Power type,
The Love-Illuminative type
The Active-Practical type
The Aesthetic-Creative type
The Scientific-Rational type
The Devotional-Idealistic type
The Organiser-Ritualitis type
Next, we investigated how Assagioli defined intuition and discovered that he differentiated between personal functions and transpersonal functions.[3] We noted that intuition is a transpersonal function and that, according to Assagioli, all the seven types can be intuitive. So while intuition is, of course, a function, it is a function that all the types have access to.
With this in mind, then we mapped functions and types in the following way (the capitalised names are the titles we use with the Seven Types – the names in brackets are Assagioli's terminology): the will function is well matched to the Dynamic (will-power) type; the feeling function matches the Sensitive (love-illuminative type); the mental function, or thought, relates to the Mental (active-practical) type; imagination matches the Creative (aesthetic-creative) type; the desire function, or passion, relates to the Dedicated (devotional-idealistic) type; and the function of sensation, or action, relates to the Practical (organiser-ritualistic) type.
But what about the Analytical (scientific-rational) type? Which psychological function is relevant here? Having removed intuition from the list of seven functions, we were lacking a function to map onto this type – but further research gave us an answer. In an article about education[4], Assagioli speaks about an abstract part of the mind and a more logical/analytical part of the mind. We concluded that the mind can have two different functions: a more abstract thinking function and a more concrete analytical thinking function. We were then able to map the psychological function of logic to the Analytical (scientific-rational) type.
In this way, we were able to develop a model that mapped seven psychological functions onto their respective types (see Diagram 2).
At the same time, we made some other adjustments to Assagioli's terminology. We changed 'desire' (in Assagioli's list of psychological functions) to passion because we had noticed that people tend to misunderstand the concept of desire. Assagioli used many different names for desire – such as wish, impulse, drive, passion and aspiration – because there are many flavours of desire. We felt passion offered the clearest meaning of what Assagioli intended.
Also, in place of Assagioli's function 'sensation', we chose the word 'action' to refer to the body's ability to sense the physical world and act in it. We are speaking about the same function, but while sensation suggests passivity, action is preferable because it relates more accurately to the extroverted and objective nature of the Practical (organiser-ritualistic) type, who is primarily a 'doing' type. Furthermore, in an article about yoga[5], Assagioli differentiates between the body's capacities for sensation and action: we felt the word 'action', rather than 'sensation', more accurately reflected the nature of the psychological function underpinning the Practical type. (See The Seven Psychological Functions for a full explanation of functions versus types)
As can be seen, we tried to stay as close as possible to the original thinking of Assagioli, while also developing it further because Assagioli didn't write comprehensively about the types.
In your book, you also speak about introvert and extrovert expressions of each type, which recalls Jung's classifications. Can you tell me more about this?
The concept is also based on what Assagioli wrote about introversion and extroversion. There are two sources in particular. In his article Jung and Psychosynthesis[6], Assagioli wrote about introversion and extroversion and the need to develop the abillity to be polyvert, which means directing your attention in all directions at will. And in his article Individual Psychology and Spiritual Development [7], Assagioli presents this theory in more detail. So we can see that the concept of introvert/extrovert is a valid theory to apply with respect to the types.
To explain, we can say that each of the seven energies has an introverted and an extroverted expression, and the ideal is that we master both. Assagioli wrote that, for example, a person could be extroverted on the emotional level and introverted on the mental level. So we can see that the introvert/extrovert dimension is not only something that can be applied and experienced at the level of personality, but also at the mental level, the emotional level and the physical level.
This brings me to a most important concept of psychosynthesis typology and of the Seven Types. A person is not just one type, but is actually five dominant types. Within our psychological make-up, we each have a soul type, a personality type, a thinking type, a feeling type and a body type. Put another way, we each have a dominant type (one of the seven types) at each of the five levels of soul, personality, thought, emotion and body (see Diagram 3).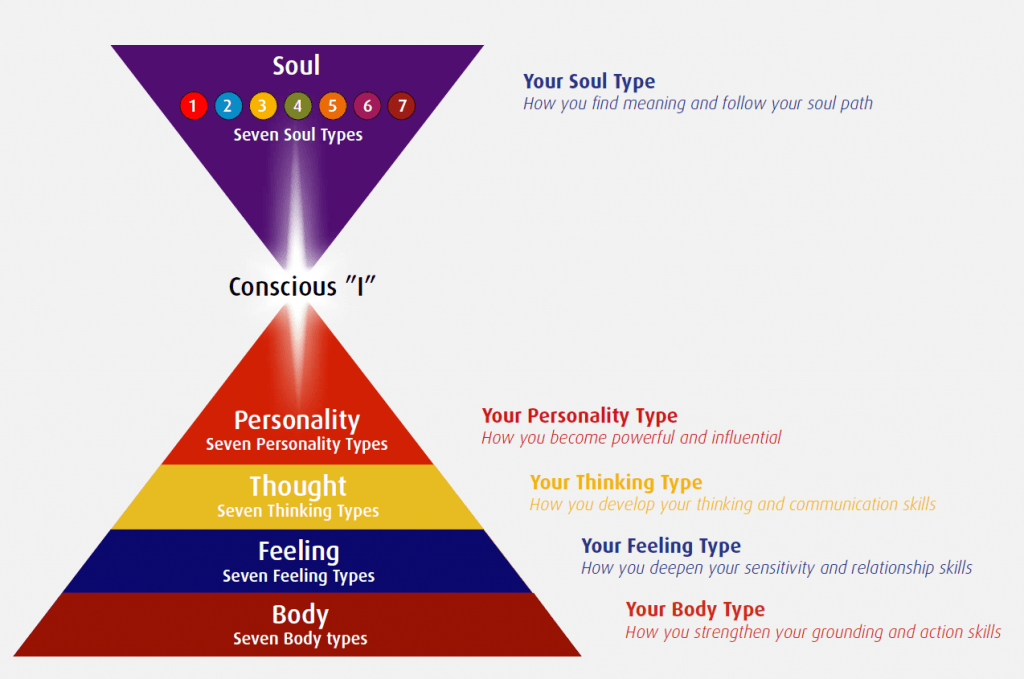 You talked about the theosophical period of your life, and how it brought you to a crisis. But I notice your book pays tribute to heritage of esoteric themes. Can you tell me more about the book's debt to esoteric psychology?
I am indebted to the teaching of the Seven Rays, there is no doubt about that, and I continually study and practice esoteric psychology in my life. The understanding of the seven universal ray energies is a crucial part of the background of the book, even though I don't explicitly go into these cosmological concepts. In my book, I give examples of all the different body types, feeling and thinking types, the seven personality and soul types, so, of course, I am inspired by esoteric philosophy.
I just felt a deep call to bring this teaching to the broader public, but without all the details of cosmology. People should be able to work with the types if they are Catholic or atheist, or anything else, without buying into all the theosophical underpinnings. It is exactly the same with Western mindfulness training: there is no need to talk about nirvana, dharmakaya or the impermanence of the world. In Psychosynthesis Typology, Assagioli does exactly the same: he doesn't speak about rays and star systems. In the same way, with the Seven Types, we primarily focus on the psychological model of the human being.
We have had around 100 people attending our one-year training programme to become Seven Types coaches in Denmark and Norway. We have applied the theory with athletes and soccer teams, so we have had a lot of exploration and experiments with the types.
To reach a broader public, you and your staff have developed www.jivayou.com, a personality profiling tool based on the theory of the SevenTypes. I can barely imagine the amount of work behind it. Why did you choose to develop an IT tool?
I am quite sure we wouldn't have done it if we had known at the start how much work we would have to do, because it has taken us seven years! It has been a lot of work – and none of us has got any money out of it – in fact, it has cost us a lot of money to develop. But now we hope we can create an economy out of it because we offer a valuable tool for people to discover their soul and personality type. (see www.jivayou.com/en/)
All the other typology systems have assessment tools, which gives credibility. The tool we've developed provides some kind of scientific validation because we can do a lot of research based on our questionnaries and we can analyse the data, which we intend to do. I am not a scientific person myself – I don't have that drive – but it is important to have this kind of people work with the theory and data.
I really love pictures because they can explain very difficult concepts in a very simple way, just as I love Assagioli's egg diagram, which is so profound and has such explanatory power. If I was to choose one diagram I think it would be the one relating to the seven psychological functions and our behaviour (see Diagram 4).
I think it is so simple. When I show it to people, they have an immediate understanding of the basic philosophy. I use it with clients too – they don't have to believe in the Seven Rays, they just have to believe that they have seven psychological functions that they each create a different type of behaviour. We all have the seven psychological functions, but we have not developed them equally, which is why we differ in the qualities we radiate and how we think, feel and act.
I really like it when things are both very simple and highly complex at the same time.

---
[1] Integral Psychosynthesis, Kenneth Sørensen, 2008: https://kennethsorensen.dk/en/integral-psychosynthesis-a-comparison-of-wilber-and-assagioli/
[2] 1934, Assagioli, Roberto, Loving Understanding: https://kennethsorensen.dk/en/loving-understanding-by-roberto-assagioli/
[3] In my book The Seven Types I give all the relevant quotes.
[4] See Notes on Education by Roberto Assagioli (1968): https://kennethsorensen.dk/en/notes-on-education-by-roberto-assagioli/
[5] Assagioli, R. (1933). Practical Contributions to a Modern Yoga, part I. The Beacon. Vol. XII (Oct.) p. 182
[6] Assagioli, R. (1967b). Jung and Psychosynthesis. Psychosynthesis Research Foundation, Issue No. 19. Read at https://kennethsorensen.dk/en/c-g-jung-and-psychosynthesis/
[7] Assagioli, R. (1931). Individual Psychology and Spiritual Development, Extraverts and Introverts. The Beacon, Vol IX (Jan.) p. 250.